Check out this awesome giveaway from Save more Spend less with Heidi. I recently won a giveaway for this company from another blog and I am super excited and having a horrible time trying to choose. Scroll below to enter and good luck.
24/7 Frenzy Review and Giveaway-
Awesome clothing site!!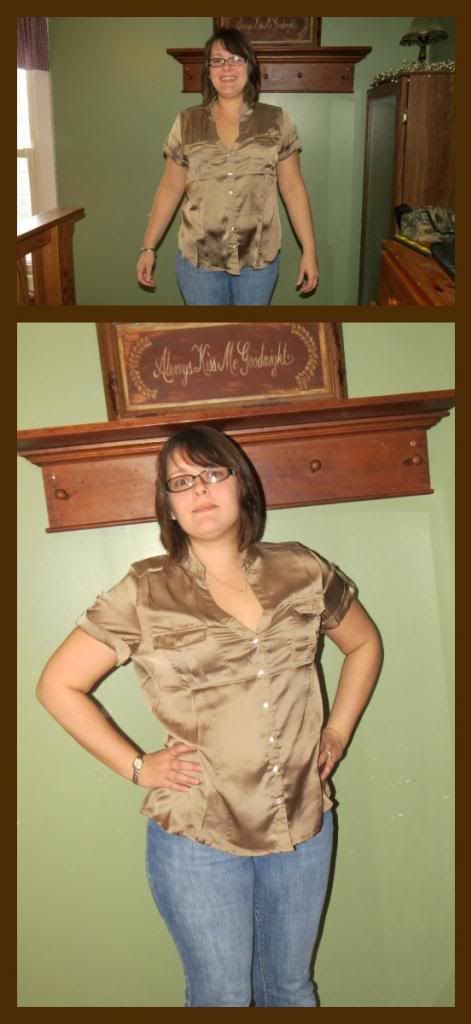 24/7 Frenzy is an awesome clothing site that I have had the pleasure to work with. When I was given the opportunity to work with them I jumped at the chance because we all know I need new clothes. So I sent in a list of items to my contact and I was pleasantly surprised when my shirt arrived. It was a Collarless Button-Up V Necked shirt which is my favorite type of shirt. The color was Mocha so I knew it would work with about anything.
It is a button down shirt with short sleeves and the military style makes it super cute!! It has a silky texture so it would be perfect for work, but you could easily wear it with a pair of jeans as well. I was super excited when the day came to wear my shirt, I planned the perfect outfit, had a substitute teaching job outside of the house, so I knew I would look good.
Well, as you can tell here comes the trouble....my chest got into the way. There was a way for me to get it to button, but the buttons were stressed, and I knew there was no way I could wear it out of the house. Not to worry, I loved the shirt, but the site was out of 2x which would have to be the size I would have. So if you are a bigger chested girl like myself, order the next size up so that it will fit.
So I took it to my sister and she lucked out on this one!! She was the recipient of this awesome shirt and here are a few candid shots of her "modeling" the shirt. She was pleasantly surprised that she liked something that I would like and it looks awesome on her!
Want to know more?
• Made of 100% polyester
• Available in mocha
• Available in sizes XL-3XL
• Features button-up sleeves
• Patch shirt pockets in front
You can get this
shirt fo
r only $39.99 which would make the perfect addition to your closet!! Now for the best part one lucky SMSL with Heidi reader will have the chance to win one of 10 $50 Gift Certificates to go shopping at 24/7 Frenzy!! Enter to win on the Rafflecopter below!! Good luck!!
a Rafflecopter giveaway
Make sure you check out 24/7 Frenzy on their website, Facebook, and Twitter.


The product in this post was given to me in exchange for my review/opinion by 24/7 Frenzy. Even though this product was provided to me at no cost, I only personally recommend products that I think will be good for myself and readers. Thanks to 24/7 Frenzy for allowing me to review this great product.